In Memory
Larry Dean Swain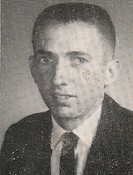 Born Oct. 18, 1945, Oakland, CA; died Sept. 9, 2014, Ben Wheeler, TX, age 68
JTHS activities: FFA
Married, age 20, to Patricia Lois Luff, 18, July 1, 1966, Smith County
"A memorial service will be held for Larry Swain at 1 pm. on Friday, Sept. 12, 2014, at Heritage Trail Cowboy Church in Ben Wheeler with Pastor C.R. Chapman officiating. Visitation will be held at the church on Thursday from 6 to 8 p.m.
"Larry went to be with the Lord on Sept. 9, 2014, at the age of 68.
"Larry Dean Swain was born Oct. 18, 1945, in Oakland, Calif. He had been a resident of Ben Wheeler for 32 years, and was a member of Heritage Trail Cowboy Church. He retired from Van ISD in 2008, after working many years as the AEP teacher. He loved to ride and train horses, and was currently working at 4T Saddle and Tack in Ben Wheeler.
"He was preceded in death by his father, Junior Swain.
"Survivors include his wife of 48 years, Patty Swain, of Ben Wheeler; son, Brian Swain, of Ben Wheeler; son and daughter-in-law, Brad and Casey Swain, of Van; daughter and son-in-law, Erin and Jason York, of Van; mother, Bernice Swain, of Ben Wheeler; two sisters, Diane Brown, of Swan, and Liane Lewis, of Elkhart; seven grandchildren, Davvi and Luci Swain and Olivia, Garrett, Blake, Zachary and Samuel York."
- Published in Tyler Morning Telegraph on Sept. 11, 2014