In Memory
LaDonna Stegall (Stuart)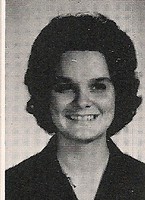 Born April 24, 1946; died Dec. 15, 2001, Colorado Springs, age 55
"I'm writing to give you information about my older sister, LaDonna Stegall (Stuart), who is listed among your deceased classmates.

"LaDonna died in December, 2001, of lung cancer that had already spread to the liver by the time it was found. She left behind one son and two grandsons who loved her dearly. She was musically gifted and talented, especially in regards to the guitar. She played by ear, sang like a country angel, and performed with others or alone many times in her short life. She and I used to sing together old hymns that nobody even knows anymore, and I loved harmonizing with her. She was a wonderful person and I miss her so much.

"Although she lived most of her adult life in Kansas City, she died while here in Colorado Springs, Colorado, where I live."
- Katie Stegall Farr, March 2, 2011