In Memory
Bobby Lynn Myers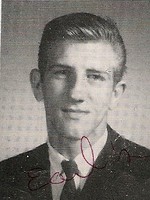 Born Nov. 11, 1946, Tyler; died July 19, 2009, Tyler, age 62
"Bobby: You were part of our little "click" 50 years ago. You will be greatly missed. God has taken you home now and we will see you shortly. My deepest condolences to Judy and family and friends." - Gene T. Tate, 7/20/09
"To the family of Bobby Myers! I went to school with Bobby from the first grade through the 12th grade! Although I never knew him very well, I do remember him as a very nice, quiet kid! A group of us walked home from Marsh Elementary School, everyday! It was six blocks from my house on Bois d' Arc to the school, and Bobby and Linda Mallory, and Carolyn Marsh always walked together! They had to go farther than I did, so sometimes they would walk ahead of us , or with us , or behind us, but we all made the trip everyday! We did this everyday for 6 years! My how times have changed! I offer my deepest sympathy and prayers for all of Bobby's family!" - Barbara Briley Sollock, 7/31/09
---
Bobby L. Myers

Services for Bobby L. Myers, 62, of Bullard will be held on Wednesday, July 22, at 1:00 PM at Stewart Family Funeral Home Chapel with Rev. Jerry Hawbaker officiating.

Burial will follow in Tyler Memorial Park Cemetery in Tyler under the direction of Stewart Family Funeral Home.

Mr. Myers passed away, Sunday, July 19 at Mother Frances Hospital in Tyler.

He was born November 11, 1946 in Tyler to the late Clarence Lee and Mildred Ethel Hamilton Myers.

Mr. Myers was a member of Tyland Baptist Church.

He graduated from John Tyler High school, class of 1964 and attended Tyler Junior College. Mr. Myers served in the US Army in Vietnam. He worked as a machinist in the oil field equipment industry for 28 years. He loved to fish and boat with his grandkids. Bobby was a great husband, father, "pop-pops", brother and friend.

He is survived by his loving family including his wife of 42 years, Judy Myers of Bullard; daughters Kristi Webb and husband Russ of Corinth and Toni McCallie and fiance Lance Williams of Chandler; grandchildren, Parker Webb, Drew Webb, Mallory McCallie and Michael McCallie, Jr.; brothers, Gary Myers and wife Kelly of Royse City and David Myers of Tyler; sister-in-law Shirley Hale and husband Turman of Tyler; and by numerous nieces, nephews and his faithful sidekick B.J.

Pallbearers will be Ronny Hartman, Joe Mahfouz, Hung Nguyen, Dan Priest, Mark Powell and Sid Miller.

Honorary pallbearers will be Manuel Cruz, Jimmy McClendon, Greg Hale, Lloyd Hendrick and Max Ewing.

Visitation is scheduled from 6:00 to 8:00 PM, Tuesday, July 21 at Stewart Family Funeral Home, 7525 Old Jacksonville Hwy, Tyler, Texas 75703.

Memorials in honor of Bobby L. Myers may be made to The University of Texas, M.D. Anderson Cancer Center, P.O. Box 4486, Houston, Texas 77210-4486.

For more information or to express condolences, visit www.stewartfamilyfuneral.com.