In Memory
Frances Ann Gorman (Crawley)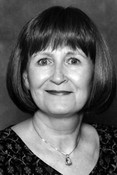 Born Oct. 15, 1946, Tyler; died Nov. 6, 2009, Tyler, age 63
JTHS activities: FHA
"Memorial services for Ann Gorman Crawley, age 63, Chandler, are scheduled for 11 a.m. Monday, November 9, 2009 at First Baptist Church in Chandler with Bro. Terry Davis and Bro. Vic Taylor officiating.
"A private burial will be scheduled at a later date.
"Mrs. Crawley was born October 15, 1946, in Tyler to Joseph and Pauline Gorman and died November 6, 2009, in Tyler.
"She worked for Dealers Electrical Supply in Tyler for 15 years and was a member of the First Baptist Church in Chandler for 38 years.
"She was preceded in death by her parents; brother, Jody Gorman; and granddaughter, Elizabeth McCoy.
"Survivors include her husband of 45 years, Steve Crawley, Chandler; son and daughter-in-law, Steven and Lynnette Crawley, Tucson, Arizona; daughter and son-in-law, Leann and Dwain Sanders, Tyler; and many grandchildren; nieces and nephews."--Tyler Morning Telegraph, 11/7/2009.