In Memory
Ralph Paul Clinkscales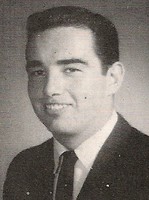 Born Sept. 3, 1946, Tyler; died Aug. 2, 2007, Dallas, age 60
JTHS activities: Student Council, Football Team (Captain), Tennis Team
"Ralph Paul Clinkscales passed away August 2, 2007 after a lengthy illness.
"Paul was born in Tyler, Texas, on September 3, 1946, to Louise Street Clinkscales and Francis Parker Clinkscales.
"Upon graduation from John Tyler High School and Tyler Junior College, Paul received a Business degree from the University of Texas at Austin. He worked for many years in the IT industry.
"Paul is survived by his daughter and son in law, Amanda and Justin Shaw; a granddaughter, Diane Shaw; and Ann Clinkscales.
"The memorial service will be held on Monday, August 6, at 11:00 at Preston Hollow Presbyterian Church."
--Dallas Morning News, Aug. 5, 2007