In Memory
Anne Stanley Calhoun (Phelan, Loyd)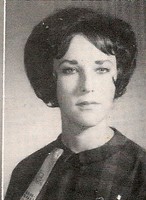 Born 1946; died May 14, 2001, age 55
JTHS activities: Cheerleader, Girls Forum Club, Senior Class Play, Administrative Office Assistant
Augusta [GA] Chronicle, May 2001:
"Mrs. Anne Stanley Calhoun, 55, of West Drive, Durham, N.C., died Monday, May 14, 2001. Memorial services will be held at 11 a.m. on Saturday, May 19, 2001 at St. Pauls Episcopal Church, 605 Reynolds Street, Augusta, Ga. with The Rev. S. Bruce Walker and The Rev. Lou Scales officiating. Interment will follow at Westover Memorial Park.
"Survivors include a son, John W. Phelan of Augusta, Ga.; two daughters, Christy Phelan-Vail of Galveston, Texas. and Amy Loyd of Augusta, Ga.; a brother, William Calhoun of Los Angeles, Calif.; four grandchildren.
"If so desired, memorials may be made to Shelter and Advocacy Center for Abused Children, P. O. Box 12036, Augusta, GA 30914-2036 Mrs. Calhoun was a member of Christ Episcopal Church, Tyler, Texas. where she served on the Alter Guild.
"The family will receive friends after the graveside service at Westover Memorial Park. Platts Funeral Home, 337 N. Belair Rd., Evans, Ga 30809"